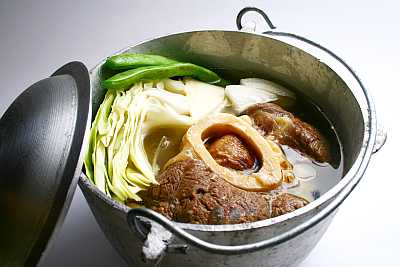 http://www.clickthecity.com/img2/articles/CTC-2476-image4.jpg


1 kg (2 lb) beef bone marrow


1 medium onions, sliced

1.5 liters (12 cups) water

1/2 kg (3-4 lb) boneless beef shank or stewing beef

2 medium potatoes, peeled and quartered

2-3 saba (plantain) bananas, each cut into two pieces

1/2 medium cabbage, quartered

2-3 tablespoons patis (fish sauce)

Salt and pepper to taste

1 pc hot chili

Procedures
1. Bring to boil the bone marrow and onions for about 45 minutes. Lower heat.
2. Add beef shrank and boil for 1.5 to 2 hours, or until beef is tender
3. Add potatoes and saba, boil for 15 minutes( may also include sweetcorn)
4. Add cabbage, bring to boil for 10 minutes
5. Add hot chili, salt and pepper to taste.
Serve hot. servings good for 3-5 persons